GOLD! We have officially just been awarded the School Games Gold Award for our efforts across the past year. Huge congratulations to all of our sports competitors. This term has seen a netball tournament and a new club get underway:
We have also taken part in Indoor Athletics at South Molton: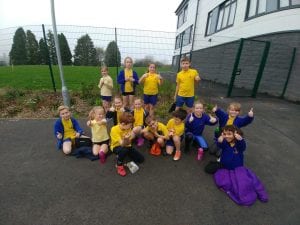 ..the hugely exciting Stephen Shield Cross Country at Great Torrington,
and our federation combined year 3/4 football team (Exmoor Link Rangers) have played their first league fixture playing a really hard fought game away at Witheridge losing 2-1 and a year 5/6 friendly against the same opposition, this time winning 2-1.
There is still more to come with a year 5/6 athletics event at South Molton later this week. What a busy term!