Monthly Archives:
April 2017
Bishops Nympton Primary School have successfully completed their astronaut training as part of Mission x, a flagship project of the European Space Agency.  Children who attended Mission x club progressed through various levels of space based training.  Together we ran the London marathon, completed physical training similar to which Tim Peake endured during his astronaut training.  We investigated the effects of gravity that we would experience on different planets, sampled space food and experienced the dehydration station.
A fantastic program designed to create the opportunity to experience life as an astronaut through their training to their time up in space on the ISS. All children who participated gave it their all, enabling us to complete each challenge and pass our astronaut training.
Hopefully this program has enthused the children into future space odysseys to infinity and beyond!
Mr Scandrett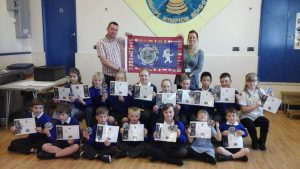 Twenty two of us once again braved the elements but also the beautiful open moor on Saturday. Conditions started bright but ended wet as we made our way from Dulverton.
We finally raced (quite literally in some cases) across the open moor to our finish at Anstey (Molland Moor) gate. Over eight miles completed and we were even joined by friends from other schools. Well done everyone. Team selections next! 😃