Class one had a lovely time at Rosemoor today as part of our learning about life and living things.  Our morning was spent learning about minibeasts or invertebrates as they are also known.  We went on a minibeast hunt where we found woodlice, spiders and beetles, we were also lucky enough to find a newt and a frog!  It was all very exciting!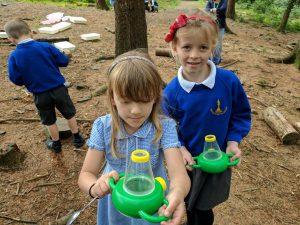 We then met up with our East Anstey friends for lunch.
After lunch we went exploring in the garden.  We enjoyed looking at all the beautiful plants and flowers, the roses smelt amazing!  We also had time for a play in the play area.  I am incredibly proud of all of the children for their impeccable behaviour.  We had many members of the public commenting to us on how well behaved the children were, and they truly were, well done class 1 we're very proud of you.  A massive thank you once again to all our our adult helpers, very much appreciated.
Alison Hancock