Glorious sun greeted us for the actual event. This was great for us as watchers but so challenging for the competitors (the hottest Exmoor Challenge in its thirty year history). All got underway well and both Exmoor Link Federation teams produced excellent pace. The training really seems to have paid off as they made their way confidently around the course. That pace didn't slow much (even with the conditions) and all children made it home to the cheers of the sizeable crowd. Times would appear to be good – still awaiting results but all can be really proud of their achievements. I know I am really proud of the teams
Team 1:
Emily
Jayden
Charlotte
Charley
Team 2:
and reserves (special thanks to those who came along today – Paige, Liam etc.).
Enormous thanks to Tim and Jo Williams for logistical support but also the amazing T-Shirts. Can I also say a huge thanks to the parent group for working so hard and helping every step of the way. It's been really fun. It has  been such fun in fact that we are now looking to stage our very own family walking event – The Hawkridge Hike. We will publicise details on this next week.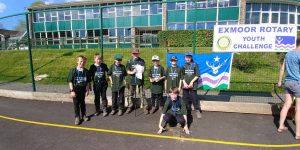 More photos very soon but check this link for a great idea of the event:
https://www.devonlive.com/news/devon-news/photos–youngsters-tackle-16-1537509
Have a great Bank Holiday
Mr Gurney