OK, well maybe not exactly, but we had an amazing visit from Rosie's mum who showed us lots and lots of amazing photos of animals and life in Africa.   We saw that some of the moths are as big as Rosie's hand: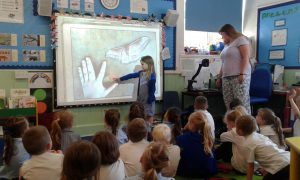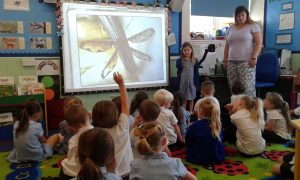 They once had a scorpion sneak under the door of their house!
The ground is very rich in minerals which means the fruit and vegetables grow really big!
This is fruit and vegetables from Rosie's own garden:
This bug was as big as Rosie's mum's hand!
These are both avocados, the smaller one is from the UK and classed as large, the big one is the one grown in Africa and is classed as small!
A huge thank you to Rosie and her mum as this is such a great way to learn about Geography, where we are learning about geographical similarities and differences through studying the geography of a small area in the UK and a small area in a contrasting non-European country.