Our year 6's enjoyed today's visit to Barnstable rugby club were they took part in the Life Skills event.  An event designed to give them the skills set and understanding of various topics which may become useful to them as they move forward towards secondary school.
The fire brigade were on hand to demonstrate the dangers of kitchen fires and the appropriate action to be taken, followed by a quiz to test the children's fire in the home knowledge.
The Community police officers were on hand to discuss the dangers of alcohol and it's effects it has on our bodies.  We all had a go at walking home from the pub wearing the beer goggles!
The excitement was all too much for Liam who collapsed to the floor!  Luckily the paramedics were there to teach everyone how to keep Liam safe and put him in the recovery position.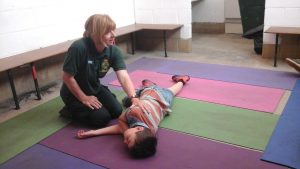 Well done to all of our year 6 Exmoor Link pupils who, as ever, listened well and showed great respect to all the services provided.
Mr Scandrett