Class 1 were particularly pleased to see the snow today, as we are enjoying a week learning all about winter!  Whereas on Monday we were feeding the animals in the fake snow, today we got out to enjoy some of the real stuff!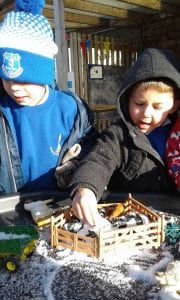 We have been learning why we have to feed the animals in the winter, both on farms and the birds in our garden.  On Monday and Tuesday we made fat balls for the children to take home and hang in their own gardens for the birds.
We have been getting creative with our hand print snowflake paintings:
We have been counting snowmen:
We even made soup in our soup kitchen outside, although Mrs Hancock wasn't too sure about shark soup…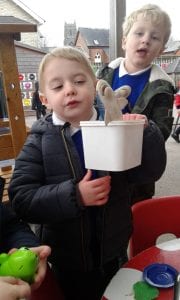 Reception have been making non-fiction books about British wildlife:
Then finally, today, the real snow came so we had to go outside and have a play!!
Then this afternoon we made some real soup from potatoes and leeks to warm ourselves up and we ate it for afternoon snack!
Thank you weather for the perfectly timed snow for our winter week!  😉
From all in Class 1! 🙂