Today, both East Anstey and Bishops Nympton joined forces to fight off Viking Invaders.
Well actually,  we were treated to an amazing day of learning, hands on excitement and fun as Ed the Viking joined us to teach us about what life was really like during the Viking and Anglo-Saxon times in Britain.
Ed the Viking ready for war. He is in mail, complete with helmet, war axe and shield.
We learned about most aspects of Viking and "dark ages" life as our visitor took us back in time. We even learned about how Vikings went to the loo!
There was great excitement as we all tried Viking Bum Wrestling –
After lunch, we were treated to a masterclass in why the Vikings invaded. We heard how and why they waged war and were so successful. This involved looking closely at attack and defence. Here, Ed the Viking demonstrates the advantages of spears and looks at mail armour.
Later we built shields to defend ourselves from the attacking hordes. Finally in a full assault, it was a case of defend General Gurney as the Shield Wall was employed.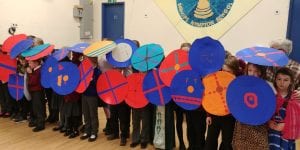 Great day.