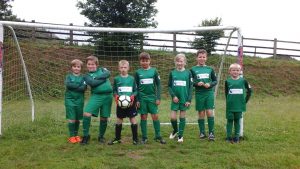 Our year 3 / 4's played the last game of a difficult inaugural football league campaign.  We have had difficulties all season putting together a team, coupled with the impossibility of getting everyone in the same place for training.
However, I cannot fault the effort put in by those who represented the Exmoor Link Federation over the season and last night was no exception.
We visited North Molton in our newly acquired green premier league kit but took some time getting into our stride.  4 – 0 down at half time made it a difficult task to get back into the game.
But they fought brilliantly in the second half with a much improved performance bagging 3 goals.  However, a strong North Molton side completed their victory 8 – 3.
Our players continue to improve with every game and always show a great desire and passion to play.  Their season is still not over as we have a friendly at Dulverton and a cup competition to play in.
Mr Scandrett